GamingExcellence's Best of E3 2012: The Nominees
Our complete list of nominees from one of the most outstanding E3's in years.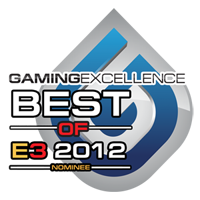 While E3 2012 may have come to a close, we're still knee deep in coverage from all of the amazing games showcased this year. Truly, this will be remembered as one of the years where the focus was squarely on producing great games for both the current and future looking platforms rather than gimmicky hardware and accessories as we've seen in past years.
Our annual E3 awards are about recognizing standouts of the show, games that wowed, surprised, and left us grasping for more. Here's a look at this years nominations. We'll announce the winners on Tuesday June 19th.
Special Achievement
Best Downloadable Game
Best Graphics - Technical
Best Graphics - Artistic
Best Use of Motion Controls
Technical Achievement
Biggest Surprise
Best Trailer
Most Anticipated
Genre Awards
Best Action Adventure Game
Best Fighting Game
Best MMO
Best Platformer
Best Puzzle Game
Best Racing/Driving Game
Best Shooter
Best Sports Game
Best Strategy Game
Platform Awards
Best PC Exclusive Game
Best Console Exclusive Game
Best Multi-Platform Console Game
Best Handheld Game
Game of the Show