Sesame Street: Once Upon a Monster Review
A monster of a good time for the young and young at heart
Is there a game designer more deified than Tim Schaefer in the industry? Amongst the hardcore crowd that grew up with his Monkey Island, Grim Fandango, and Psychonauts titles, it's not likely. Hell, we even forgave the guy for the disappointing Brutal Legend on the strength of his past triumphs. While it sounds like the set up for a bad joke, what happens when you combine Tim Schaefer's sensibility with a kid-friendly experience like Sesame Street.
The answer is a surprisingly good time. Once Upon a Monster is a Kinect exclusive game that will have kids rollicking in delight, and even their parents will get in on the fun.
The gameplay in the game is simple and easy for kids to play. Broken up into six separate stories of about a half hour each, players will follow the adventures of Elmo, Cookie Monster, and a new addition named Marko as they go on adventures in well realised environments. The themes are surprisingly poignant and funny, including ones about friendship, loneliness, being yourself, and accepting others. Each of the six stories is broken up into a slew of varied minigames, each of which is fun in its own right. The writing is sharp and can be funny for anyone aged 3 to 93.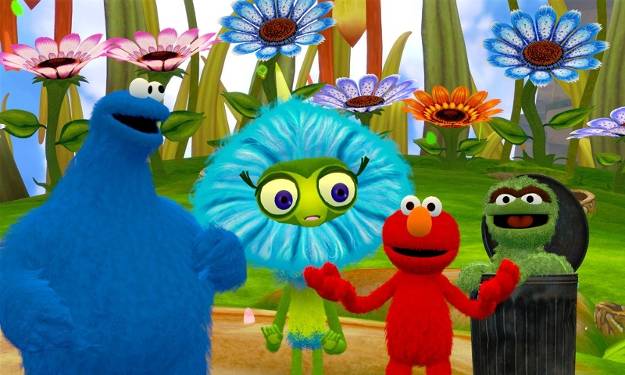 One or two players (the second of which can drop in and out by simply walking in and out the Kinect's field of view), will get quite the workout with a slew of minigames that break up each chapter. Players will find themselves flapping their wings to fly around, run in place, jump and duck through obstacles, dance around, play rhythmic drums, dress up monsters in a variety of ridiculous garb, and more. A few games get repetitive, but the target audience certainly won't mind. The menus are also a snap to navigate, with responsive controls that have you pulling pop-up tabs and turning pages.
Like any other Kinect game, a little tweaking may be necessary to get the most responsiveness out of the game. I personally had a devil of a time with glitchy movement until I realised that my open laptop screen in the Kinect's field of view was throwing the sensor off. Once I closed the lid on the laptop, the game responded much better. At any rate, this is one of the more accurate Kinect experiences I've had.
It's great that the controls are so simple and responsive, which should keep tantrums at a minimum. Broad, wild gestures register just as well as fine, precise ones, which is great considering most young children will flail about wildly.
In the end, there's only about three hours of content in the game, but young children will want to explore with Elmo and Cookie Monster over and over again, making this one of the better Kinect values for the younger set.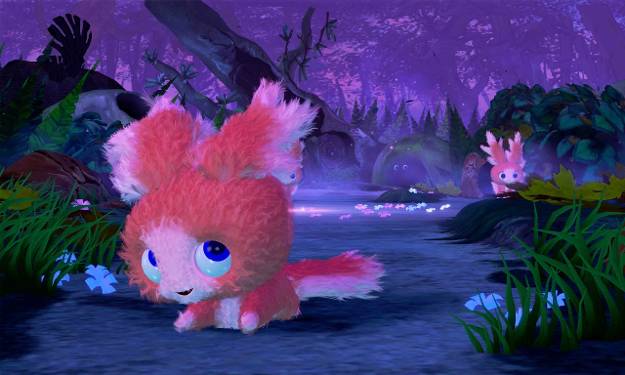 Once Upon a Monster uses the Sesame Street licence to great effect. Many of your favourite characters are represented here, including my favourite, Grover. The environments and characters both look great, especially on an HD screen. The mimicked motions translate beautifully from the real world onto the screen, especially during the dancing and flying chapters. The voice acting is pitch perfect, with just the right level of encouragement to ensure young children don't get frustrated. Visually and acoustically, Once Upon a Monster is a colourful treat for the senses.
In the simplest terms, if I were a six year old, I'd be in heaven playing this charming, quirky, and fun little adventure. Obviously, I'm not the target market for such a game, but I found myself enjoying my adventures with Elmo and company. It's a virtual certainty that the very young in your family will feel the same, especially if they share the experience with a family member who is also young at heart. This is certainly another Tim Schaefer triumph. Now how about getting around to Grim Fandango 2?