Leadfoot Review
Whether you enjoy racing or not, this game is a lot of fun.
Dirt Track Racing is the first thing that comes to mind when I think of Ratbag Games. They are widely known for their excellent dirt racing simulations of the past, but now they have tried something new, something a little different, and it has proven to be a great success.
Developed by Australian based Ratbag Games and published by WizardWorks, a subsidiary of Infogrames, Leadfoot is an indoor stadium off road racing simulation. Featuring twelve stadium tracks and eight vehicle types, including five types of sport trucks and three types of "Super-lites", Leadfoot appeals to a large crowd.
Upon first launch of the game I hit the track in an instant with the quick race mode, only after the requirement calibrating my wheel and pedals. After my first twenty-five lap raceI found that my hands were sweating and I could only mumble one thing, "Damn, this game is fun!" If you have ever seen indoor motocross, Leadfoot is very similar in the stadium and tracks respect, but you are driving vehicles ten times the size. The super-lights are a lot of fun to race around in due to their excellent handling and high speeds. Leadfoot is a new experience you will not forget for a long time.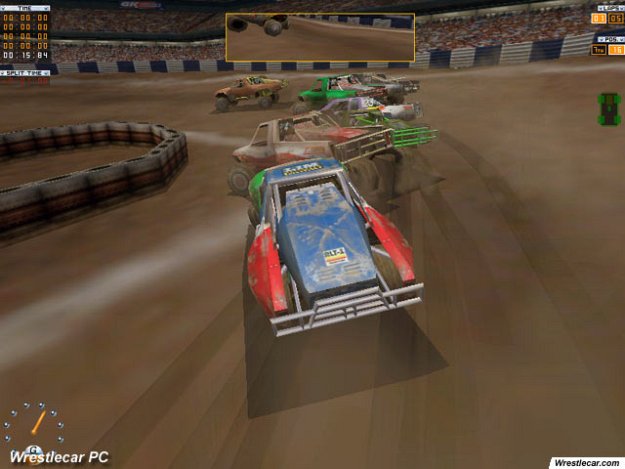 Anyone familiar with Ratbag's past simulations would expect to be able to just hop into the cockpit and be able to drive, but Leadfoot is a whole new learning curve as the game is very challenging, even on the beginner mode. The AI is very fast, and it takes a lot of time to learn how to use the throttle approaching a corner and how to exit a corner properly. It is easy to barrel roll the vehicle should you go off a jump improperly or hit a bump in the edge of the track. The super-lites are much easier to drive, and are good for beginners due to their small body and good handling. As you become more experienced, it is wise to move up to the larger and "bulkier" vehicles, which make the game progressively more difficult. The physics engine in Leadfoot is nearly perfect, which is one of the reasons it is so enjoyable to play. Driving over caps of hills in an indoor arena and flying several feet off the ground only to have to stop at a few feet after the jump and make a sharp corner isn't just addicting, its going to engulf your life.
While driving around the track at a high rate of speed, players expect to take damage should you contact a wall or other vehicle. This is exactly what happens in Leadfoot. Although the damage model is a little "forgiving" at times, even on advanced mode, it still is very through and gets the point across. Damage is possible on almost every part of the vehicle, and it is easy to damage a wheel or bend an axel, ruining your race. After rolling the car, it is capable of driving away, but usually the roof-roll bars are bent downwards and you are basically eliminated from having a decent finish due to the damage incurred.
In any title, graphics are a very important aspect, especially with the fierce competition in the gaming industry. The graphics in Leadfoot are very clean and clear, with very few problems. On several occasions, "clipping" problems were present, but these were not as common as in many titles. The detail in each vehicle type is simply amazing, even including a 3D driver modeled within the vehicle. The tracks are very thorough, and trackside graphics are extraordinary. Unfortunately, there are very few objects surrounding the track, as only a few spectators and hay bales are scattered around the periphery. Large grandstands surround each track, giving you the feel that you are really in a large stadium and performing in front of a crowd. Every type of vehicle has a different cockpit view, with controls in different positions and generally different shape. After driving in a super-lite vehicle for awhile we found that the larger trucks were harder to drive, as it was difficult to get used to the cockpit being higher off the ground. Depending on your video capabilities, the graphical options are fully adjustable, which allow the game to run well on a wide variety of video cards.
Leadfoot also features a career mode where players can progress through a season. The career mode begins with the player selecting a series and purchasing a vehicle. As you win more races and finish higher in the points, more parts become available to upgrade your vehicle and make it better. As time progresses, the races become more difficult as your opponents upgrade their trucks as well. Simulation fans will enjoy the career mode, but most players will more than likely just enjoy racing and not worry about the customization and small details about running a race team.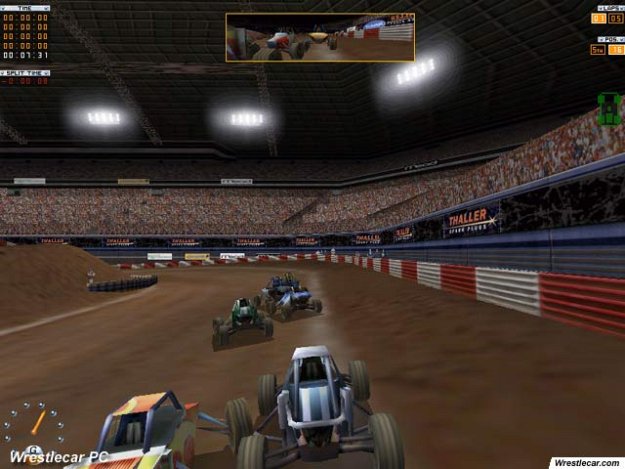 If you have ever played any of Ratbag's previous titles, the sound effects within Leadfoot will seem very familiar. The engine and general in-game sounds are almost exactly the same, and although this is not a major issue, it is something that could be improved. Engine sounds of the smaller vehicles are higher pitched with engines that have more revolutions per minute, while the larger vehicles have a lower tone as they spin at a lower RPM.
Multiplayer seems to be the way of the future, and games without adequate multiplayer capabilities are not as popular as games with them. Leadfoot does not include a multiplayer matchmaking service within the game, but rather uses an IP system where the player must first know the IP of the server or game host before they can join a race. Included on the Leadfoot CD is a copy of "GameSpy Arcade", a small software package which acts as a matchmaking service for Leadfoot, as well as many other games which you may possibly be running. It is somewhat inconvenient to have to launch this software to play Leadfoot online, but it is better than scouring the Internet searching for an IP for a race server.
As in previous simulations developed by Ratbag, Leadfoot features a massive garage area where players can tweak and tune their vehicles in an attempt to achieve maximum performance. Some of the adjustable settings include wheel settings, transmission, drive train, camber settings, and even the ability to adjust the "toe in" on the vehicle. Beginners will not need to enter the garage area right away, as a solid setup has been shipped with the game, while advanced drivers will customize a setup to fit their driving styles.
For diehard simulation and arcade drivers alike, Leadfoot is an excellent choice. The realistic gameplay and overall "fun-factor" is very high, especially considering the game only has a twenty dollar price tag.