E3 2012: F1 2012 Preview
Codemasters works hard to give other racers a run for their money.
It's always smart when developers approach a sequel with some trepidation. You always need to be aware of how much change leaves a game feeling wildly different and how much change is classified as too little. Gamers are a finicky bunch after all. But the crew at Codemasters is well aware that sequels are tough especially when you want to improve. The third game is what they like to call "the difficult third", almost like a band having difficulty with their third album. So they're going to give it their best go and try to improve the experience for gamers, both series vets and new blood.
To start with the developers have made improving on just about every aspect of this game. They've overhauled the menus to make navigating them easier to address fan complaints about that aspect. Perhaps more important to some gamers they're doing an immense amount of work to reduce the load times to make gaming experiences much more fluid and manageable. Heck even the engine audio has been made more impressive thanks to them using up to five microphones per F1 car to capture more authentic noises to really capture the experience. Slap on some high quality gaming headphones, sit back and enjoy living the experience.
To help out new players with actually getting into the game, especially in areas where F1 isn't exactly popular, the developers have introduced the young drivers test. Set in Abu Dhabi the young drivers test is a nice chance for twenty-somethings who want to get into F1 racing to actually hop into one of the race cars for the first time. As such it's the perfect setting for a race tutorial so that new gamers can ease into the experience. This consists of about seven tests at the base but more advanced ones can be done later on to address things like fuel balance, tires and the more advanced concepts that might take a lot of people by surprise.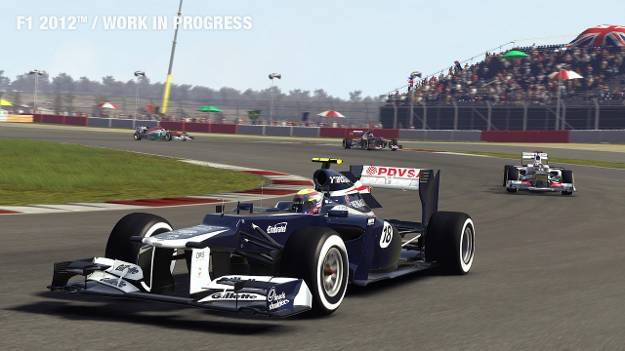 In addition to all of this perhaps one of the most impactful changes is that of dynamic weather. Tracks may surprise you the first time you ride them but they eventually become memorized enough that they can be driven with your eyes closed. To combat this the dynamic weather system will actually provide wild variety in each race: For example you could start a race with no rain at all but while you drive a rain storm rolls in over the eastern part of the track that moves in real time. This could leave this one part of the racetrack wet and slippery and almost impossible to control when driving over. So do you bring tires for the rain to deal with that and risk them getting torn up during the rest of the track or do you stick with normal tires and deal with having control issues at that point? It's going to provide yet more decision making to the process of getting your car ready for a race.
F1 2012 is set for a release date in September this year. If you've even had the slightest bit of interest in the series or just want a brand new racing game to mix up the Need for Speed / Forza duology then this is the best game out there for you to get in on. With new tracks that have never been seen before, such as the Austin, Texas track, there's a lot of content under this hood and it's guaranteed to be fun for any fan who wants themselves another racing sim.