Lost Planet 3 Review
I'm bored! Is the game over yet? How about now? No? C'mon, end already!
I'll never understand what goes on in the minds of the guys over at Capcom. They do their regular schtick of re-releasing games multiple times and release crappy Kinect games like Steel Battalion: Heavy Armor. When that stuff manages to not do amazingly in sales they decide they want to save money by spurning the game series that people want to see, stuff like Mega Man. But what would the fans know, it's not like Keiji Inafune's Mighty No. 9 managed to Kickstart enough money to give him his own money bin. No instead they're going to pay the studio known for such gems as Legendary and Turning Point: Fall of Liberty to take a mediocre franchise with a miniscule fanbase and make a sequel out of that.
Because of course they did.
Well I'm at least happy to say that this is probably the best game that Spark Unlimited has done in many years. At least from a technical standpoint that is. The amount of effort that's gone into Lost Planet 3 is actually rather impressive and it probably does the series more service than it deserves at this point. That said it's still not a good game but for entirely different reasons than the ones that came before. Where those felt amateurish or lazy depending on the game / gameplay element this one is plain boring. Not just boring... this is a new kind of boring. One that makes other forms of boring seem like a rollercoaster ride of excitement. Well that and a few other issues but mostly the boredom.
The first misstep here is in making Lost Planet 3 a prequel. While it makes some sort of sense that you'd want to go back to the frozen tundra that existed before the terraforming it introduces some plot holes even as it tries to explain things. Your protagonist here is Jim, a jack-of-all-trades repairman who can handle a gun and a giant mech suit as well as a variety of repairs around the facility. He's come to E.D.N. III to earn the money to take care of his family back home on Earth and he's willing to do whatever work he can get that isn't illegal to make that money. But the big bad mega-corp NEVEC is going to ruin all of that when they come to the planet in force, something anyone who played the first game is going to know is happening.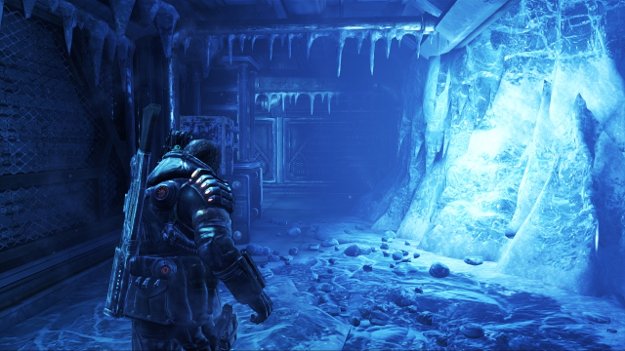 But here's a curious question: how does Jim not die when he gets shot? See Wayne from the first game and all of the player characters in the second game had Harmonizers. These devices let you use the thermal energy you gathered from enemies or environmental destruction to keep you warm and to act as a secondary health meter. Once you get hurt your thermal enegery will be drained to heal your body, keeping you going when others would be dead. But here thermal energy has simply been turned into a form of currency. Want a new gun or some upgrades? Hand over your thermal energy. So how does Jim handle bullets to the face? Generic third-person shooter regenerating health of course!
Lame. They took out one of the elements that made the Lost Planet games unique and replaced it with something that belongs in any Gears of War wannabe. It does have the benefit of streamlining the gameplay, since you might otherwise be managing thermal energy and money while trying to avoid damage in the battlefield. Unfortunately it just doesn't feel like it fits the game world established in the past two games and it makes the game far too easy. There's no worry about running out of T-Eng, just hide from damage for a few moments and you'll be fine. Honestly if you go about using any evasive maneuvers most of the enemies in this game will find themselves hard pressed to kill you even on normal difficulty.
On the other hand the rest of the gameplay components are pretty well executed. As opposed to distinct stages you've got an open world to explore here that kept reminding me of a Fable game. Navigating the game world via quest marker trails is quick and easy, taking you across the lands the company will have you working in. Since Jim is an actual employee he gets to do stuff like rescue people, repair damaged moorings in a storm or even set down new t-energy siphoning Data Posts that need to be drained of energy regularly.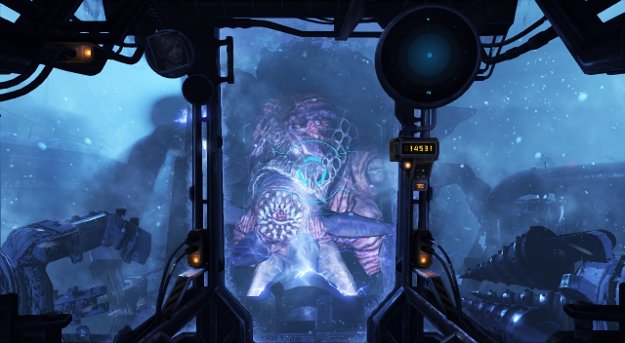 Jim has a mech that he uses for trips outside the base with a claw arm and drill designed to excavate although it still works great as a combat machine. What's awesome is that occasionally when traveling on the surface of the planet your mech will get frozen over forcing you to eject, chip off the ice with your weapons while fending off the local wildlife until you can get back into the protective suit and continue. It's another element that makes the game feel dynamic and as realistic as a game like this can feel.
What also helps is the rather good presentation that Lost Planet 3 throws at you. You're looking at top-notch graphics that might be a bit plastic looking but the quality of the models and animations are actually pretty damn good. Add onto that the damn good voice acting, with one guy who almost sounds like Nathan Fillion, and there isn't much to complain about there.
Honestly the game's biggest problem is that it's just absolutely boring. Running around the base is slow and boring, dialogue with the other characters is mostly uninteresting, quest objectives are mostly bland, the characters are no better and the combat is solid but repetitive. If that sounds like I've basically said that the entire game is poorly done, that's not it at all. As I've mentioned throughout this review the game is very well done from a technical angle with only a few, really noticeable issues. No it's just that none of these mechanics come together into any sort of interesting or exciting package to keep the player interested. I don't think a game has ever made me ponder seppuku as much as Lost Planet 3 has. That's not even getting into the fact that the four-player co-op of Lost Planet 2 has been replaced with a variation of the boring as hell competitive multiplayer from Lost Planet 1.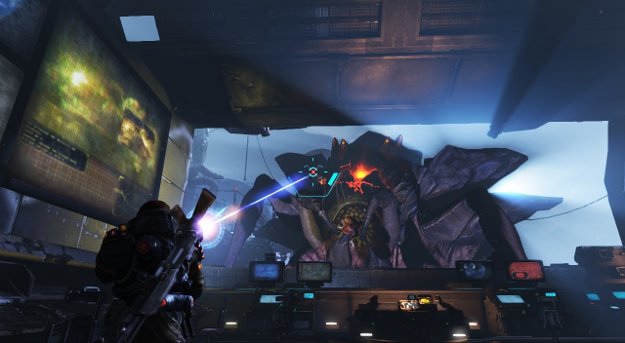 One could sum up Lost Planet 3 with the word: unnecessary. Nothing about this game really adds anything of importance to the series' mythos. Even if we get to see how NEVEC got started on its path of evil and meet the father of Wayne from the first game (he's Gale, the annoying mechanic). Honestly the best thing about the game is the final boss fight where you actually get one of the few intense combat sequences to be found in the game. Other than that only buy this if you're really looking for something to help you get to sleep.