Disneyland Adventures Review
Sometimes wishes really do come true.
I'm going to start right off the bat here and say that I am a HUGE Disneyphile. I own pretty much every animated Disney movie that you can think of, have paid to see both The Lion King and Beauty and the Beast in their 3D theatrical re-releases, and have amassed what could be the country's largest collection of Stitch stuffed animals. I've been to all the parks in Florida and in California, and have dreams of visiting Disneyland Paris and Tokyo DisneySea. So when I heard about a Disneyland-based game where I could explore the happiest place on Earth, I couldn't wait to get my hands on it.
After customizing your avatar, you start off at the entrance to Disneyland. It's a beautiful day in sunny Anaheim, California, and I get my golden ticket to enter the park, who is also my guide throughout my Disneyland adventure. After learning the ins and outs of the Kinect controls, I ran around the entrance plaza collecting gold, silver, and bronze coins. Once I entered into the world of yesterday, tomorrow, and fantasy, I got to meet Mickey Mouse himself, and he gives me a camera, which starts the game. There are several Disney movie characters scattered throughout the park in their respective themed lands (more than you'd ever be able to find at one time on any given day at the park), and each one has a task for you to complete. The guide shows you where to find everything and how to get there, so you can easily complete these challenges if you've never been to the park before, but if you have, you may know some shortcuts that the guide doesn't.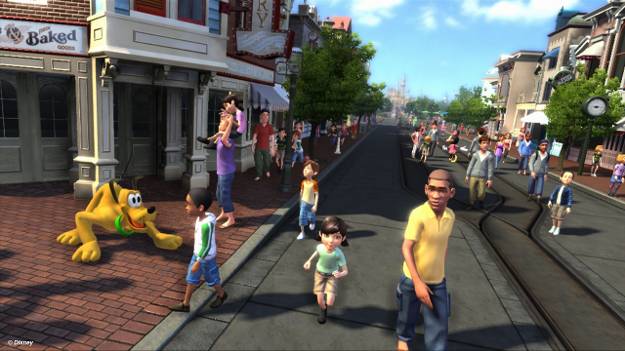 The tasks run the gamut from getting your picture taken with different characters in Toon Town to finding Peter Pan's shadow in Fantasyland to tracking down a photo for Stitch in Tomorrowland. These items only appear after you've accepted the task, so you can't just go around collecting items at will and then deliver them once you've found them all. Some tasks even linger after you've completed them – I'm still finding candied apples for Pinocchio long after I finished the task of finding three. In order to complete certain tasks, you must go on the associated ride and complete the activities – this is when you get into swordfights with Captain Hook in Peter Pan's Flight, snowball fights with the Yetis on the Matterhorn Bobsleds, and a croquet match with the Queen of Hearts from the Alice in Wonderland ride. The higher your score in the mini-games, the more coins you get.
You'll need those coins to buy stuff – you can only complete some tasks by going to the merchandise store and buying the appropriate autograph book, photo album, or outfit. You can also buy hats and pins, depending on how much of a collector you are. Pin trading is huge at the Disney parks, although I've never really gotten into it. I have to say, this part of the game annoyed me. While the Disneyland Adventures game is quite possibly the biggest marketing scheme to get you to visit the park, making me buy stuff to complete the tasks just feels wrong. Although, once you're in the store, you can scan the tags of some Disney stuffed toys available for purchase in actual retail stores (provided you didn't already rip the tags off) to unlock some new content and characters in the game.
Along the way, you'll receive new tools from various characters that will help you unlock all the secrets in the game. You can use your magic wand from Cinderella to collect items that are out of reach, or to make parasols dance and give you coins. The space blaster from Buzz Lightyear unlocks a fun balloon-shooting arcade-style mini game to help you get even more coins, and the spyglass from Aladdin helps you locate and open several hidden treasure chests throughout the park. These items will help you interact with nearly everything in the park – garbage cans, lampposts, manhole covers, trees, patio furniture... The list is endless.
While wandering the park, you'll notice that some attractions have a blue Disneyland sign next to them. Walk up and you can go on the ride. This is kind of a cool, Roller Coaster Tycoon ride-the-ride experience, and it marked the first time I've done the Mad Tea Party spinning teacups ride without feeling nauseated afterwards. Unfortunately, this experience is not available at all attractions – the more popular ones, such as Space Mountain and the Haunted Mansion and Pirates of the Caribbean (my favourites), are linked to completing tasks and mini-games, even after you've completed your mission there. While I can see the tourism value in this strategy (you actually need to go visit the park to ride the Matterhorn Bobsleds and Big Thunder Mountain Railroad), it was disappointing not to be able to experience these attractions.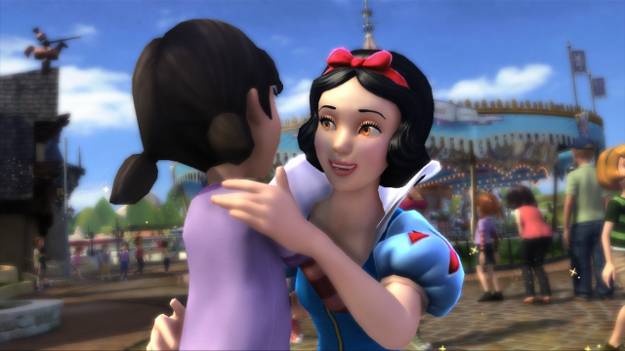 My main frustration with the game lies not with the content or features of the game itself, but with the player controls and the Kinect system. To move around and explore the park, you need to hold your arm out in the direction you wish to go. Walking from Critter Country to Tomorrowland, especially at the meandering pace of your avatar, means this can take a few minutes, and my arm was feeling quite tingly. I realize that you can use the map to jump from one area to another, but you lose the ability to find items while walking. I was surprised that the developers didn't take advantage of the Disneyland Railroad system to allow you to travel from land to land. It also seemed to take a few seconds for the Kinect system to realize that my hand was in the air to access various tools and menu screens, and not just because it looked cool.
Also, while there are endless tasks and mini-games to accomplish, there doesn't seem to be any overarching purpose or grander meaning as to why you're doing these tasks. Mario had to stop Bowser and save the Princess, but I'm not sure that there's anything in this game that comes close to such a task. It seems as though you're just walking around the park for the sake of walking around the park and running errands for characters. As well, I wish the Hidden Mickeys would have remained true to the park. Many of them are far too obvious to be dubbed a Hidden Mickey, and won't be there if you do get the chance to look for them in the park.
The visuals and the sound are well done and true to the Disneyland experience. I was very impressed at the level of detail in the virtual environment in relation to the real thing. The background music also stays close to the park itself; it changes to keep with the local theme as you move through different areas not only of Disneyland itself, but through each land as well. You also get the chance to eavesdrop on some of the AI characters in the park, all of whom discuss how awesome it is and how they are going to go home and watch a Disney movie. The AI characters rarely get in your way; they can't collect your coins or interact with you in any way, which means no one's wondering why an apparently ten-year-old child is walking around Disneyland unaccompanied.
All in all, this game surpassed my expectations. Disney usually sets a pretty high standard when it comes to its theme parks, and this game did not disappoint. The bonus content is exhaustive; after playing this game for three days straight, I had only completed about 18% of the game. It's also fun to play with family and friends, and you'll get even more points for completing a mini-game together. There's also potential to expand into the various themed parks outside of the Magic Kingdom-style park, as Hollywood Studios, Animal Kingdom, EPCOT, and California Adventure all contain different attractions. This game is sure to please any Disney fan, and will prepare you for or entice you to visit the park to complete your own Disneyland adventure in real life.