God of War: Ascension Multiplayer Preview
God of War without Kratos?
This might be the weirdest thing I've written in a while. I've been tasked with writing a preview for a game based on preview content that has nothing to do with the main story. CURSE YOU PUBLICITY GODS! Now that I'm in a proper Kratos state of mind, here goes nothing…
The easiest thing to judge is that the God of War: Ascension multiplayer looks, sounds, and plays beautifully. There is no perceivable lag, even on my relatively crappy internet connection, which is especially amazing seeing as betas usually data mine every second of gameplay. If the rest of the game delivers at this level, it'll be a great product. It's just really not clear how it connects to the story of the God of War franchise, and that's what's giving me trouble here.
Multiplayer is getting crammed into more and more titles that don't really need it, because some reviewers still score a game artificially low if it doesn't have it. So a modern game-design challenge is how to smash multiplayer up an existing franchise's poophole without tearing the sphincter too badly.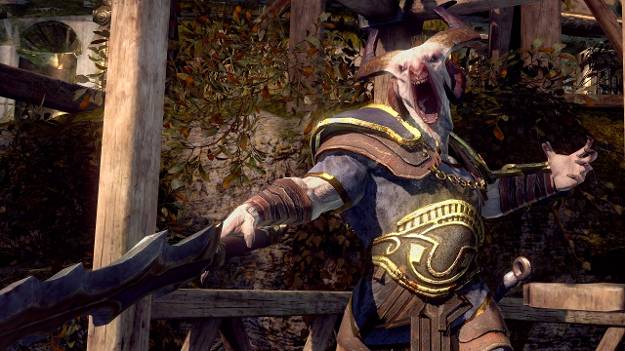 With God of War, that's a particularly tall order. Sony Santa Monica deserves a great deal of credit for creating a lead character so compelling and beloved that his absence from the multiplayer beta is palpable. It's way worse than the absence of Master Chief in ODST and Reach. Without Kratos, gameplay sometimes feels as much like Age of Conan as God of War. Well… Age of Conan with no lag, and much better combos.
Surprisingly, I believe the developers that say they weren't forced to add multiplayer; they had an idea and they ran with it. It's definitely a different experience than anything out there, and in such an oversaturated industry, that's saying something.
The experience of this melee-driven multiplayer is an intense one, especially if you actually want to win. I was really keyed up by the end of each session, and actually switched to Halo 4 as a cool down exercise. The beta contained three game modes, with Sony promising a fourth:
Capture the Flag: The least inspired of the three previewed play modes. The upside is that anyone who has played a similar mode in a shooter essentially knows how to play immediately.
Favor of the Gods: A four-player deathmatch style mode, where you earn "favor" points by killing your opponents. I found this one the least overwhelming in the early going. The "Forum of Hercules" arena-style map was simple to navigate, and there were fewer other players to keep an eye on.
Team Favor of the Gods: Teams of 4 representing Ares and Zeus battle each other to dominate altars… and also fight an extremely pissed off Cyclops. This is hands down the best game mode of the three. It's the hardest to hold your own in, but it's also the most fun. It also feels the most like a true God of War experience, and alone makes the beta worth playing.
Hands down, my favorite part of Team Favor of the Gods is when everyone beats each other bloody trying to win control over the Spear of Olympus that lets you stab the Cyclops in the eye. Granted, I suck at that part: I start laughing at the chaos and end up getting killed… but it's seriously awesome.
Objectives of a game mode actually matter, so in one match, I topped the leaderboard without getting a single kill. This stops the whole thing from collapsing into nothing but hunts for brutal kills, which I actually find disturbing when they're done on people instead of monsters. I really hope that brutal kills on humans don't transfer into the main story. I know Kratos was a bad dude, but there's a line.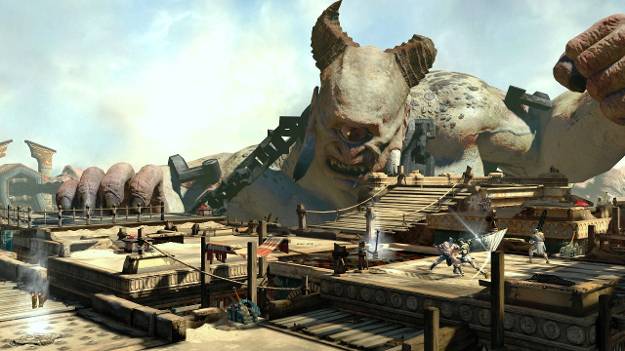 Also disappointing: no female warriors. I know they made a conscious decision to back away from "violence against women" but it still sucks.
In terms of gear, there are various weapons and armor sets to unlock and level up. In the beta you're limited to a choice of hammers or swords, but a third weapon class is yet to be announced. Something with range, like a spear or bow, would be a real game changer.
There are also some "Treasures of the Gods" that you have to find hidden in chests, other chests that contain XP orbs, and various non-combat challenges mixed in with ample amounts of gore.
The game has VoIP functionality, but its no slam dunk to configure. Provided you can get it to work, it allows everyone to hear each other in the multiplayer lobby. Once you're in the match itself though, only your team can hear each other. Is this useful strategically? For sure. However, it really ruins the stunning ambiance of the larger "Desert of Lost Souls" map. You can't really immerse yourself in a fantasy environment when two teenaged guys are giggling like morons over the voicechat. Furthermore, I didn't dare take my own headset off mute because I didn't hear a single other woman in any of the sessions I played… likely because they were also on mute. I'm totally cool with the women of Kratos' world. I just have absolutely no interest in being one, and keep your quicktime minigames to yourself thanks. Is that too meta? Oh well. Anyway, I would only use the VoIP function with people I knew.
During the beta, people on the forums were raging over the ability to drop out mid-match, leaving a side short-handed. I have no idea what they can actually do about this, since you can't force someone to keep playing, and there's no pause in multiplayer. I think the best thing to reduce drop-outs is the ability to play with friends that you select. This feature isn't enabled yet, but apparently will be. And because I was just playing a beta, I'm not going to be too harsh on the multiplayer lobby. I just hope that the final version is an improvement on what I'm seeing now.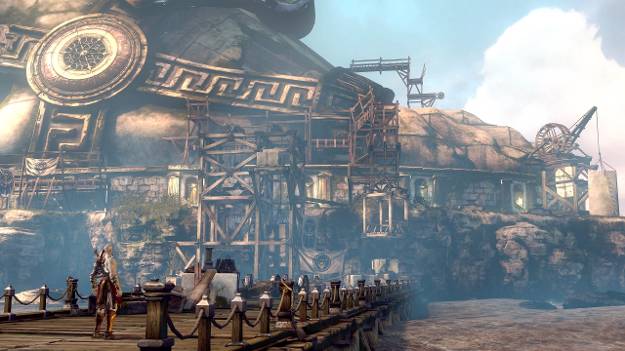 Four gods were previewed – Ares, Hades, Zeus and Poseidon -- but only two were unlocked in the beta, so Hades and Poseidon are just frustrating teases, forcing you to choose between Ares and Zeus. I noticed a significantly larger number of Ares' Spartans on the server. Spartans are more physically powerful than Zeus' Trojans, partially by design, partially because of some overpowered weapons the dev team hasn't properly balanced yet. But they're also the Gryffindors of God of War, since Kratos is, you know, the Ghost of Sparta.
Both Ares and Zeus were pretty big assholes in the previous games, so it was a disappointing Sophie's Choice. I went with Zeus because of the magic options that never quite delivered for me. Fortunately it's easy to switch allegiances as you have a different character for each god, but perhaps it's a little too easy. I was in one Favor of the Gods match where it was me against three Spartans; they accumulated god favor a lot faster than I did, even though they kept killing each other, which was pretty funny.
I don't have a "fairness" complaint regarding this, because Greek gods have never played fair. I'm hoping, however, that the game elements that we haven't gotten a chance to play yet balance out the desirability of the other factions. Hades won't have a problem, but Poseidon's perks better be badass, because otherwise you're basically a servant of Aquaman.
Another promised feature in the final version is advanced character customization, and thank the gods. Currently, the character designs all seem like the loser wrestlers that got thrown in to fight Hulk Hogan and Andre the Giant back in the days before Pay-Per-View. The lack of variety makes it really easy to lose track of which loser wrestler is yours, and you can't really afford to take your eyes off your opponents to check the ID above a given loser wrestler's head. Besides, Kratos is a half-naked fashion plate. Let the other champions he's eventually going to slaughter look fabulous too!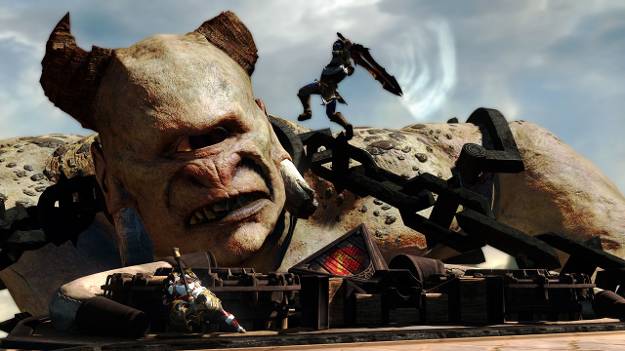 Kratos' distinct appearance is part of what's made him one of the great characters of the modern age of gaming and that's why no God of War product will completely work without him. And this multiplayer preview gave me absolutely no insight into whether this non-numbered game will live up to the high standards of its predecessors. My recommendation is to expect something more like the past PSP titles as opposed to God of War 3. I just hope that this prequel strategy isn't bordering on tapped out… okay the commercials alone make me sad but still! Kratos' daughter-related anguish is becoming more drawn out than walking in Middle-earth movies!
With that said, I give Playstation top marks for giving us a non-numbered game that feels like the people working on it cared. Maybe the Resident Evil franchise will follow this example, because their fill-ins between sequels… yeah. Getting Kratos-level angry again… you won't like me when I'm Kratos-level angry…