NASCAR Racing 4 Review
Strap yourself into the most realistic NASCAR simulation to date.
Papyrus Racing Games is known for its popular line of racing simulations ever since they set the early standard with their original NASCAR Racing, released in 1994. This title was popular from the beginning, with the most advanced physics and damage models to date. In 1996, Papyrus stunned the racing world with the release of NASCAR Racing 2. Although it used the same physics model as NASCAR Racing, the graphical enhancements and pay-to-play multiplayer made it a keeper. It wasn't until 1999 when Papyrus unveiled and released NASCAR Racing 3, complete with robust enhancements in the area of multiplayer support, would they revolutionize the production of games with completely free multiplayer gaming. Now, Papyrus has released their newest version of the NASCAR line of simulations with realism undreamt of until today.
NASCAR Racing 4, published by Sierra Studios and developed by Massachusetts based Papyrus Racing Games, is the newest title in Sierra's popular line of NASCAR Simulations. NASCAR Racing 4 is basically a whole new game, as an all-new graphics, physics, damage, and AI model have been included. NASCAR Racing 4 is the first modern-day NASCAR simulation to include all of the 2000 NASCAR Winston Cup Series tracks, including Daytona International Speedway, Pocono Raceway, and Indianapolis Motor Speedway. Now you can truly find out if you have what it takes to win the Daytona 500! NASCAR Racing 4 also features 33 official 2001 Winston Cup drivers, as well as all four NASCAR Winston Cup auto manufacturers, including Dodge which is new for the 2001 Season. Sierra has gone above and beyond in this department, and players will be eternally grateful for their efforts.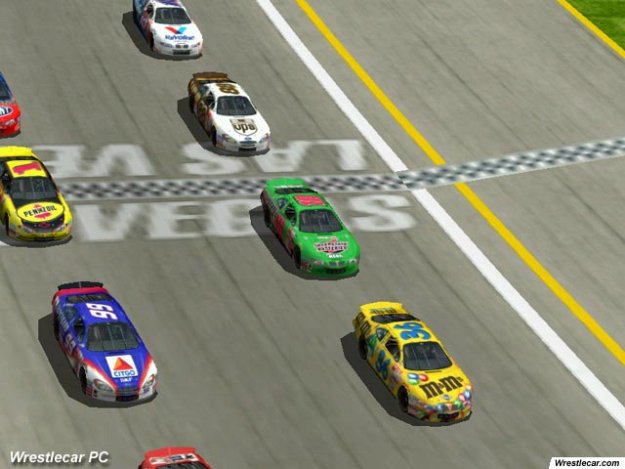 As seen in Papyrus's previous NASCAR simulations, a lot of time and effort went into the manual. Quotes from Philippe Lopez (NASCAR Winston Cup Crew Chief) regarding each track and how to setup your car are included, and are a great asset to the title. Often, publishers and developers overlook the manual, but it is a necessity in games like NASCAR Racing 4. The general interface is very easy to use, and some good features such as automatic screen-settings detection has been included, and is automatically launched on the first start after installation. This will detect settings, and test your choice of settings to determine that they are compatible. Overall, it's very user friendly and well designed.
We can only say four words about NASCAR Racing 4; this game is tough! Using the same physics engine as the one found in Papyrus's previous racing simulation, Grand Prix Legends, players now have the ability to barrel roll in large wrecks and lock up the tires if the pedals are floored. Hard impacts with the wall cause realistic rolls, and drafting is a necessity at larger tracks such as Daytona and Talladega to remain with the field. Should you happen to abuse the tires on your car then there's a chance that one might go flat, at which point you'll be enjoying a nice ride into the wall. The worst feeling in the world is leading the Daytona 500 when a right front tire goes flat with only a few laps to go, ruining your chances at victory. But, this a possibility in real racing, and it can also happen in NASCAR Racing 4. With true-to-life physics, players get the idea of how hard it actually is to drive a Winston Cup car, and how skillful the real drivers actually are.
NASCAR Racing 4 features all new damage modeling, easily one of the best models we have seen in NASCAR simulation to date. Drivers are able to damage almost every part of the car, with realistic vertex damage and mechanical failures. Should a player become involved in a front-end collision, the hood will realistically crumple, and the engine can easily become damaged. Parts will scatter across the track from the wreck, and tires can bend and twist, basically ruining any chance for a good finish. Should you abuse the gears and motor in the car, do not expect to finish the race without a lengthy trip to the pits. Should you happen to roll the car, the roof will become damaged and your ability to drive will be affected greatly. Handling is degraded in a damaged car, as is top speed, thus virtually eliminating any chance to take the victory.
Graphics are by far, one of the most important factors in a game of any type. NASCAR Racing 4 has some of the most spectacular graphics we have ever seen, with many people even mistaking the images to be real Winston Cup cars and tracks . Although these graphics are spectacular, they do not go lightly on the computer. To display a full field of cars, a powerful CPU and video card are required. Cars and objects cast realistic shadows and reflections, and even glare is visible on the cars. Papyrus has excelled in this department, and we do not possibly know how these graphics could get any better.
As seen in all of Papyrus's previous NASCAR simulations, NASCAR Racing 4 includes an all-new paint shop where players can customize their car by painting almost every aspect of it, as well as selecting a sponsor. New in NASCAR Racing 4 is the ability to use 16-bit color in the paint shop, and paint everything including the driver's in-car uniform. The paint shop is very user friendly, and tool tips have been included to assist beginners in using the various tools.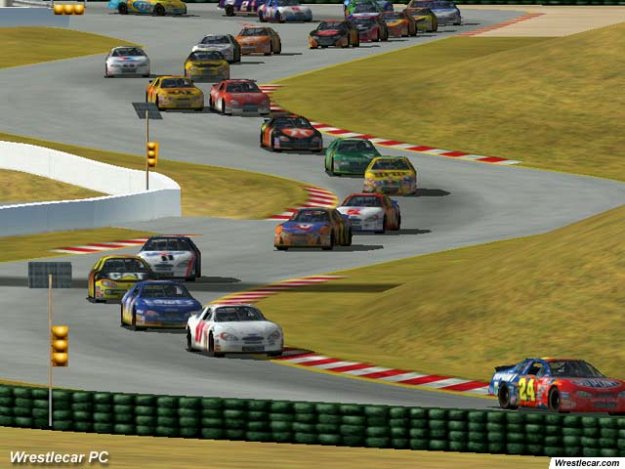 Multiplayer is important in almost every modern-day title, and NASCAR Racing 4 includes one of the most advanced multiplayer systems ever developed. Built within the game, players can join races through Sierra.com's free online gaming system. Papyrus has several ranked multiplayer servers which continually loop through different tracks. Although multiplayer racing is enjoyable, there are a few problems that can ruin the races for everyone. One major problem is the ability to "ride the wall". This is a "cheat" in which players, even with the damage model turned up to full, can ride around along the wall without braking in the corners and get unbelievable lap times. Up to 43 players can compete in one single multiplayer event, something that has never been seen in a racing simulation to this day. Papyrus has always been on top of multiplayer gaming, and this proves they don't plan on letting that reign die.
NASCAR Racing 4 features an all-new artificial intelligence model which was built from the ground up. The AI can be very competitive, and will race three wide at tracks like Daytona and Talladega without problems. The AI is not perfect, far from it actually. During our experience, the AI frequently cuts down in front of the player, usually leading to a wreck. Also, we have had problems while racing at Martinsville Speedway, where the green flag will not even fly. Occasionally AI cars will even drive through each other, quickly followed by both cars flipping when the game realizes they are clipped together. Generally however , the AI is pretty good. They will dodge wrecks when they occur in front of them, but if you are half a lap away, they will often not realize the wreck has occurred until they are a few feet away from it. This can lead to unnecessarily huge, extremely destructive wrecks. Overall, the AI is generally good at tracks like Daytona and Talladega, but does require some work on short tracks. We have been informed that these problems will be corrected in a patch that will be released shortly but , unfortunately, we do not have an exact date for its release at this time.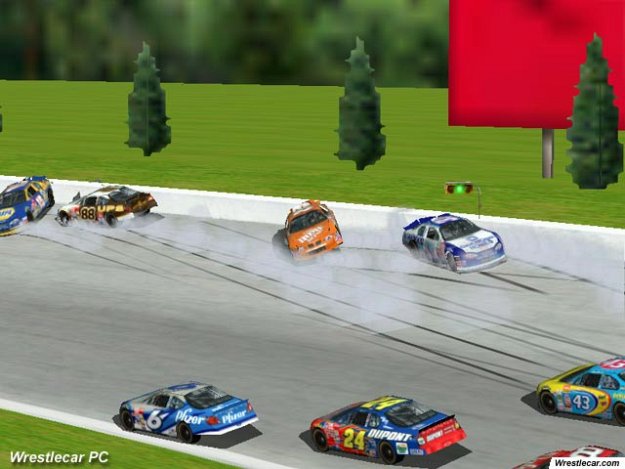 Ever wondered how a NASCAR Winston Cup car is tuned up? NASCAR Racing 4, as seen in previous NASCAR Simulations, features an interactive garage area where players can fine-tune their setups. Beginners have the ability to jump right on track with a standard setup, while more advanced simulation racers may find themselves spending as much time in the garage fine tuning their cars, as they do on the track itself. This is because virtually anything that can be adjusted on a real Winston Cup stock car can also be adjusted here.
Many small details and features have been included in NASCAR Racing 4 that make the sim more enjoyable to play, and they are definitely worth mentioning. First off, animated flagmen and NASCAR officials at the end of pit road add to the realism, and a fully motion captured pit crew is enjoyable to watch. Something else that is present in NASCAR Racing 4 are the numerous penalties and rules infractions that are possible to be called on you during the race. A couple of these include being black flagged for rough driving and blending on the track before the blend line . Finally, the ability to have multiple different mechanical failures is a great addition to any sim, and NASCAR Racing 4 allows a huge variety of problems to occur. Damaging your motor or losing a gear is easy if you abuse the car, and pit stop problems such as lug nut's falling off the tires and air gun problems can plague a driver. Also included is a 3D Cockpit with a virtual steering wheel, which can be optionally removed, and the ability to look side to side, although this is not recommended at 180 MPH. By far, this is the most realistic NASCAR simulation we have ever played.
NASCAR Racing 4 does have its problems, but nothing that cannot be fixed in a patch. As mentioned earlier, the main problems are with the AI at short tracks such as Martinsville Speedway, as well as the ability to "wall ride" during multiplayer. Other than these problems, NASCAR Racing 4 features an all new damage model, and a physics model that is the most realistic to date. Papyrus has outdone themselves, and should be very proud of producing a title of this quality. NASCAR Racing 4 is the most realistic simulation to date, and that is not an easy accomplishment to achieve , especially considering the competition that's out there right now.