Mall Tycoon Preview
Although information is scarce, we have nine new screenshots to feast your eyes on.
The "tycoon" concept in games has been popular for years, the first big hit being Microprose's RollerCoaster Tycoon. Many new titles have emerged in this genre recently, most notably Zoo Tycoon. Now, its Take-Two Interactive's turn with the "tycoon" label, and they seem to be doing a good job thus far.
Although little information regarding Mall Tycoon is known at the present time, we do know it will be released in January 2002. Mall Tycoon will allow players to build a mall from the ground up, or start with a predefined scenario. Also, over 250 stores and 120 scenery objects will be available for use within your mall. Want to entertain your visitors? How about hiring Santa Claus or the Easter Bunny to attract attention? Mall Tycoon will offer players the chance to own and operate a mall, but everything is not about pleasing the guests.
Mall Tycoon is not simply about building a massive creation. Management and strategy will play an intricate part within the game, and once construction has ceased, this will come into play. Players will not only be responsible for the financial backbone of the mall, you will also be responsible for the security of your visitors, and any oddities that may occur.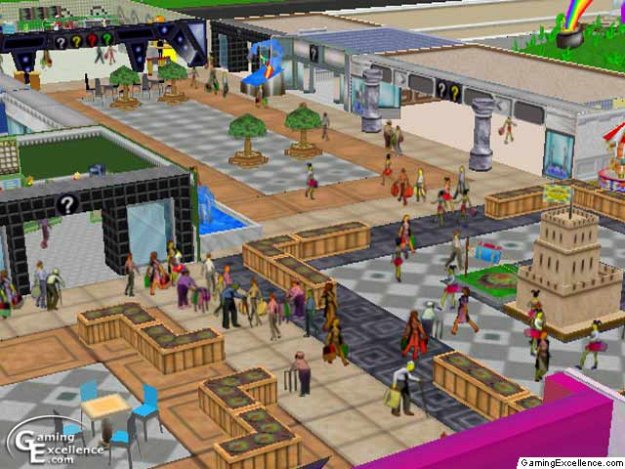 A team of productive staff will be pleased to work in your facility, but at a cost. Players must hire an elite team of security guards, janitors, and greeters. These people will be responsible for handling any troublemakers that may arise, shoplifters and supernatural creatures for example.
Research will be an important part of your success in operating a mall. Mall Tycoon will offer the ability to research new methods of promotion and upgrades to your facilities. These upgrades may not be profitable at first, but in the long run they will attract more customers.
Mall Tycoon will feature an online world in which players can upload a mall, which would then be available for download by any other players of the game. Not only is this a chance to see the creations others have constructed, but also it is a good opportunity to discover the strategies that your opponents may be using to succeed.
Mall Tycoon has the potential to be a huge success. From the screenshots seen thus far, Mall Tycoon looks to be a very promising title. As the release grows closer, check back here for more information.