Grand Prix 3 Review
Ever wanted to drive a Formula 1 car? Well, here is your chance.
Only three words can describe Grand Prix 3 by Hasbro Interactive, simply the best. Created by Geoff Crammond, Grand Prix 3 features 22 licensed Formula 1 drivers and 16 official F1 tracks, ranging from the difficult course in Montreal, Canada to the treacherous terrain of Suzuka, Japan.
The interface of Grand Prix 3 is very easy to navigate, and installation was a breeze. On our first launch of the game, we were prompted to configure the graphics settings. The game ran a benchmark test for us, and returned recommended settings, which is good for gamers who just want to race. The manual included with Grand Prix 3 is very comprehensive, one of the best we've seen in the last few years. Many gamers never bother to read the manuals included with games, but those who fail to do so with Grand Prix 3 will be missing out on many driving tips, and a whole section on how to approach and enter corners while driving a Formula 1 racecar. The manual is a great tool in Grand Prix 3, and it's highly recommended that all gamers who already own this game take a glance at it, if you haven't already . Who knows? This manual's actually good enough that it may help you to become a better driver.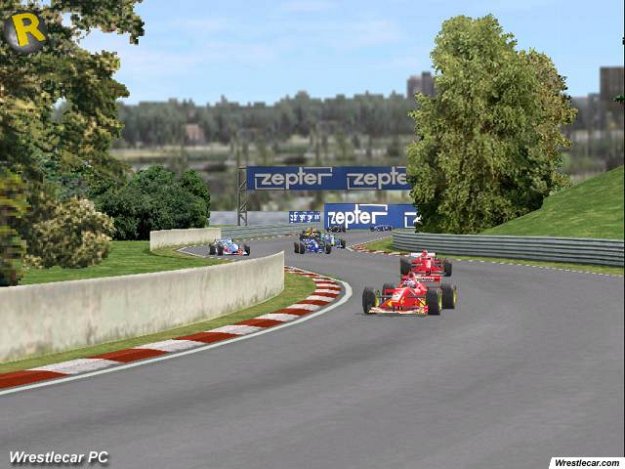 Grand Prix 3 features a championship mode where players have the ability to compete in multiple races with point's calculations, and face off against the greats in a full Forumla 1 season. Visit circuits around the world, attempt to tame the tracks, and carry your car on to victory. Get good enough, and you may actually have a shot at taking the Formula 1 world driving championship.
Grand Prix 3 features a wide variety of tracks, some of which include Germany's Hockenheim, and Australia's Albert Park Raceway. The tracks in the game are modeled to exact specifications, including design and layout, sand pit placement, and placement of stands. Overdrive a corner or take a shortcut, and you will receive a black flag and be forced to slow for several seconds. Lose control and spin off the course, and you will be lucky to walk away without severe damage to your machine.
The garage area included with Grand Prix 3 is very interactive and allows players to modify almost anything on the car, from the wing angles to the gear ratios. Most beginners are expected to use the default setups, but for those diehard simulation gamers out there, the garage area included in GP3 is the only thing you'll ever need to allow you to tune your car to perfection.
The most important factor in a simulation is the physics engine, and Grand Prix 3 features one of the best. Most of us have never sat inside a Formula 1 car, much less driven one, but this allows us to get a good idea of what it must really be like. With the ability to barrel roll in vicious wrecks, and flip when coming into contact with another driver's tires at speed, this game feels perfect. The drafting effect while driving down long straights has been modeled, and the slingshot effect works very well when attempting to pass opponents entering a corner.
The graphics in Grand Prix 3 are similar to its predecessor, but have been improved in the car models as well as track graphics. The framerates are good with options set to high, except for the replay mode where graphics can become choppy. The game runs very smoothly while playing, even on older video cards. Grand Prix 3 features superb graphics, and many features including unique reflection effects are just some of the improvements over other current Forumla-1 games.
One problem with Grand Prix 3 is the lack of a multiplayer option where players can connect through an internet connection and challenge others. The multiplayer feature included with the game only allows players who are connected to a Local Area Network to compete in multiplayer action, which means players cannot face off over the internet. Most games now include multiplayer capabilities, but Grand Prix 3 is sadly lacking in this area. It is not yet known if Hasbro Interactive will release a patch to correct this in the future.
One of the best features with Grand Prix 3 is the ability to race in the rain on a slick track. While raining, the track is very hard to navigate, and players have to change their driving style drastically just to stay on the racing surface . The cars ahead of you shoot water up into your face, making visibility even worse than it normally is. Over long races, the weather can change, and the rain can go from a light sprinkle to heavy sheets of water , making the track even more slick than it was before. Optimal conditions are a nice, sunny day, with a dry track. As we all know however, that's not always the case in real life, and neither is it in Grand Prix 3.
Grand Prix 3 features a unique and very realistic damage model. When involved in wrecks, tires can fly off and cars can break apart into many different pieces. Crashes at high-speed result in debris lying all over the track, and tires rolling across the grass. The damage model in Grand Prix 3 is excellent, and realistically mirrors that of real Formula 1 automobiles, as the smallest bump or spin can destroy a drivers car. Keep control of the car, and you'll have no problems, but bounce it off of a wall, and you'll definitely suffer the consequences.
http://media.gamingexcellence.com/screenshots/grand-prix-3/inline/92.jpg
The artificially programmed opponents included with Grand Prix 3 are very challenging to pass, which makes the game extremely immersive . Have you ever dreamt of competing against such greats as Michael Schumacher or Eddie Irvine? After playing Grand Prix 3, you'll feel like you already have . When entering a corner, the computer cars will dive to the inside of the corner, and try to out brake you. Loose grip in one corner, or overdrive another , and they will be all over you, passing to both the inside and the outside. Opponent cars often make mistakes as well , as they may overdrive a corner and end up in a sand pit, or in the grass. At the start of a race, one opponent may get into the rear of another, resulting in both cars being knocked out of the race. This is one of the first simulations where the number of opponent incidents on the track is close to the actual number in real Formula 1 events.
The sound in Grand Prix 3 is simply incredible. The engines rev down the straights, with a very realistic high-pitched squeal, and as they brake, the gearing down actions sounds exact. If you happen to lose control or lock up the brakes entering a corner, the tires squeal as they slide across the track. This game is for real! Crash impact sounds are very good, as are the screeching of tires and smashing of metal when a car impacts a wall. It sounds like you are in a real Forumla-1 car, traveling 200 miles per hour.
Overall, Grand Prix 3 is the most realistic Formula 1 simulation we have ever played. What do Geoff Crammond and Hasbro Interactive have in store for us next?