Razer Ouroboros Gaming Mouse Review
Don't let the angry transformer look fool you, Razer's Ouroboros lives up to the lofty expectations.
I'll admit it, I had to lookup the definition of "Ouroboros" in the dictionary: a symbol of a mythical dragon-like creature wrapping around into a circle and swallowing it's own tail. The symbol represents evolution of a species or idea. Razer's new Ouroboros gaming mouse demonstrates this same concept, a development years in the making and an evolutionary step forward in both Razer's past gaming products, as well as adapting and integrating some of the best concepts from other mice in the industry. The result is an exceptional all-around gaming mouse that should please both casual and hardcore gamers alike.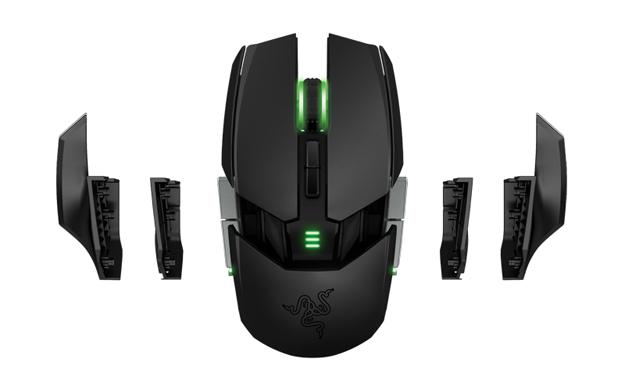 The overall look of Razer's Ouroboros is best described as an angry transformer, especially with the green LED glow emitted from the mouse wheel and side buttons. Gaming aficionados will notice that it does strike a resemblance to Cyborg's RAT series, and it's obvious the basic look and customizability of the Ouroboros was inspired from Cyborg's original RAT design. Both are highly configurable and designed for extreme ergonomics, and while the RAT may offer several options that aren't available in the Ouroboros (such as weighted discs to adjust the overall weight and feel of the mouse), the technical specs of the Ouroboros are far superior, notably the precision and acceleration. It's also important to note that the Ouroboros is a true ambidextrous mouse, the same can't be said for any of the mice in the RAT series which are primarily geared towards right-handed gamers.
In terms of specs, the Ouroboros' technical offerings are impressive, up to an 8200 DPI resolution (with what Razer dubs their 4G dual sensor system), and 1ms wireless latency offers incredibly responsive and precise gaming. If there was ever a wireless mouse you'd consider gaming with, this is it. The Ouroboros also features a DPI clutch trigger for extreme precision when you need it, available on both the left and right sides of the device. The mouse runs off of a single rechargeable AA battery, and Razer boasts that it's capable of a continuous twelve hours of wireless gaming without requiring a charge. In our tests, it fell about thirty minutes shy of the twelve hour benchmark with fairly intense use on a brand-new battery, however for more general purpose tasks I had no problems achieving fourteen hours of continuous use before requiring a charge. My guess is that over time the recharge capacity of the battery will decrease as is common in NiMH batteries, thankfully it can be easily replaced with an alternative AA battery whenever necessary.

Aside from the impressive specs, Ouroboros biggest offering is the extreme customization and adjustable ergonomics. The mouse can be configured to fit almost any size hand, the length is adjustable by about two centimeters (about an inch) and rear palm grip can be angled anywhere between fifteen and twenty-eight degrees. As well, the Ouroboros comes with two pairs of magnetic, interchangeable side grips offering both finger grip and extended wing (finger rest) form factors. The mouse is a wired/wireless hybrid, included is a charging cradle, and can also be plugged in via the bundled USB cable if desired (or a battery charge is required).
One of the biggest benefits of the Ouroboros is the excellent Synapse 2.0 configuration software, which allows you to create and manage various profiles for your device. These profiles contain a wide variety of settings, from DPI and sensitivity to button mappings, as well as a plethora of advanced tweaks. You're able to map any mouse button to one of default, keyboard function, mouse function, sensitivity adjustment, macros, or on the fly profile swaps. While I found the Synapse software easy to use and more than enough for my needs, it also offers a wealth of advanced settings for the most extreme gamer, including X-Y sensitivity adjustments, polling frequency, acceleration, liftoff range, lighting, and an advanced macro recorder. Lastly, it features a handful of integrated cloud functions which allow you to backup and transfer your profile wherever you go, one of the few features of the software I don't have a lot of use for, but could be handy if you're bringing your mouse to an unfamiliar PC or gaming competition.

Beyond the specs and looks, what really matters is how the Ouroboros actually performs, and how it feels after hours of use. I put the mouse to the test with a couple of marathon gaming sessions, as well as several days of general productivity use (e-mail, web surfing, etc). While it took a little getting used to (and a lot of fidgeting with the adjustments to get it perfect), I found the Ouroboros handled beautifully, with little to no discomfort even after the longest most-intense palm-sweating gaming sessions. I did notice an occasional stutter where the cursor seems to freeze for a couple seconds when using the DPI clutch option, and while it didn't happen every time, it was distracting enough to notice and avoid using the feature. As this is pretty common in other gaming mice, I'm really hoping the issue resolved in a future firmware or driver update, as it's the only major downside to an otherwise exceptional product
Available in both Canada and the US for $129.99, the Razer Ouroboros is fairly expensive compared to other gaming mice, but it's a worthy buy for those who love to game or simply want to have the most extreme customization and options available. It's technical specs are very impressive, the wireless and wired hybrid with included charging dock is incredibly convenient, and wireless response time is among the best I've ever seen. Certainly worth a look.